por josé simões, em 15.05.12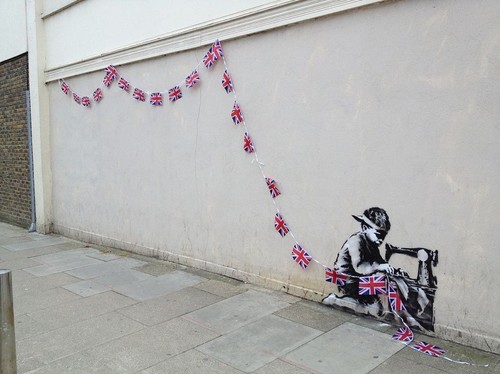 Como nos blogues, ou nos artigos de opinião nos jornais, não é porque se encheu uma página inteira de palavras, e de palavras todas rebuscadas e cheias de retorcidos e reviravoltas a lembrar a fachada do Mosteiro dos Jerónimos, que a mensagem chega com mais força ao destinatário.
Na maior parte das vezes funciona exactamente ao contrário, é maçudo, o leitor desmobiliza logo ao segundo ou ao terceiro parágrafo, não há margem para respirar, não há espaço para raciocinar. O leitor está ali só porque tem de haver alguém a clicar no rato para activar o contador de visitas do top of the pops ou o número de page views que vão gerar receitas de publicidade.
Às vezes basta uma imagem numa parede branca. Como esta de Banksy na Whymark Avenue de Londres, a recordar o trabalho infantil – e miseravelmente pago, num qualquer país emergente com índices de crescimento de dois dígitos, daqueles que os "mercados" costumam atirar como exemplo à cara da Europa rica, e que está por detrás de toda a parafernália de souvenirs que vão gerar milhões de pounds de lucro no jubileu da rainha. [Clicar na imagem para mais detalhes]
[Via]